I'm Very Disappointed in NBA Executive Vice President Stu Jackson
Stu,

Why did you suspend Amare Stoudamire from Game 5 in the Suns-Spurs series? Why did you remove one of the league's best players from a game in the only playoff series that's really interesting right now? By making this decision, you—and not the players—may have decided the outcome of a competitive series between two of the league's best teams; by extension, you may have determined which team wins the NBA Championship.

Josh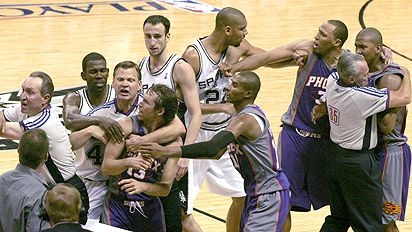 OK. I'm being overdramatic. Even without Amare and Boris Diaw, the Suns could beat the Spurs. Phoenix will have home court and an us-against-the-league emotional boost, and San Antonio will be without key role-player Robert Horry. One could even argue that, regardless of what happens in Game 5, the Suns will have a slight advantage in Game 6, because Diaw and Stoudamire will be back on the floor and Horry will be serving the second game of his 2-game suspension. It's a stretch, but one could make that argument. Also, if I'm completely honest with myself, the more I see the tape of the incident at the end of Game 4, the more I think that Stu Jackson probably made the right decision, applying a rule that has lasted for more than a decade.
(I realize that I've provided no context for this post. If you didn't catch the highlights from Game 4 between Phoenix and San Antonio and if you're not familiar with the NBA's policy of suspending any player who leaves the bench during an altercation, you probably don't understand anything I've written thus far.)
I don't want to say that the NBA should ditch the don't-leave-the-bench rule. For the most part, I think it's a good rule. But in this case, the Spurs are being rewarded for Robert Horry's shoving Steve Nash into the scorer's table. One game without Amare Stoudemire is far more severe a penalty than two games without Robert Horry, especially since Amare didn't really do anything.
This isn't the first time a team has been rewarded for having one of its players lash out at an opponent. In the 1997 playoffs the Heat's
P.J. Brown body-slammed Knicks point guard Charlie Ward
. Five Knicks, including three starters, came off the bench, though none got involved in the altercation. All five got suspensions, and the suspensions were spread out over two games. The Knicks lost the next two games and the series.
Then, of course, on November 19, 2004 (I remember it well),
Ben Wallace ambushed Ron Artest
, starting a chain reaction that would destroy the Pacers franchise.
Now that I think about it, all three of these incidents have something in common: All three took place after the game had been decided.
At any rate, Stu Jackson has done NBA fans a disservice by suspending Amare Stoudemire for Game 5. I know what the rules say, but he could have made something up.
Jackson could've said, "What happened between Horry and Nash wasn't really an 'altercation.' It was a dirty foul, but it happened when the ball was in play and no punches were ever thrown. Therefore, suspensions for players leaving the bench are unnecessary."
If he'd said that, no one (aside from a few Spurs fans) would've complained.